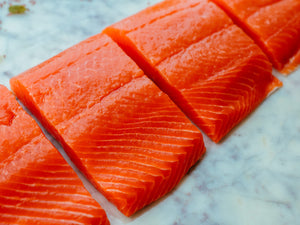 We have a number of 2023 shares still available. Please contact us at sockeyesalmonshare@gmail.com to confirm availability.
---
OUR STORY
We operate a small commercial fishing boat in Bristol Bay, Alaska. We sustainably harvest wild sockeye salmon (aka 'red' salmon) - arguably the most nutritious, conservatively managed, and highest quality wild fish available.
Every year, during June and July, Sam Ekwurtzel runs the boat with a crew of three. This year, 2023 will be Sam's 17th year of fishing sockeye salmon in Bristol Bay.
Our catch is handled with extreme care. The moment it is brought aboard, it is chilled, then processed and flash frozen in a state of the art facility in Naknek, AK. This is sashimi grade wild salmon; bright red, skin-on and deboned. Bristol Bay sockeye salmon is Marine Stewardship Council 'Certified' and a Marine Conservation Society 'Best Choice'. Our fish is 100% traceable from the point of harvest in Bristol Bay Alaska, to your freezer.
Each season, we ship some of our catch back to the east coast for distribution in New York and Connecticut, via a model that is similar to a CSA (Community Supported Agriculture) program. In this case, customers are share owners in a Community Supported Fishery.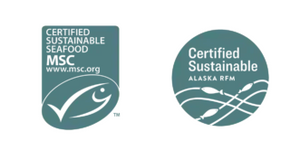 CERTIFIED SUSTAINABLE
Bristol Bay Sockeye Salmon is certified sustainable by RFM (Alaska Responsible Fisheries Management) and MSC (Marine Stewardship Council).
HOW IT WORKS
We catch the fish in the summer and get it processed and shipped from Alaska to the east coast.
You pre-order by June 25th and pick up your salmon share in mid- September.
One share consists of 15lbs of frozen sockeye fillets (approximately 12 fillets). Each fillet is individually vacuum sealed in clear plastic. Your share will be packed in an insulated box, allowing the salmon fillets to stay frozen during transport to your freezer.
2023 PICKUP LOCATIONS AND DATES:

• GREENPOINT, BROOKLYN, NY --- (Saturday September 16)

• SUNSET PARK, BROOKLYN, NY --- (Saturday September 16)

• GERMANTOWN, NY --- (Wednesday September 20)
• NEW HAVEN, CT --- (Thursday September 21)

• HARTFORD, CT --- (Thursday September 21)
• GRANBY, CT --- (Saturday September 23)

• SOUTH LYME, CT --- (Sunday September 24)
FREE DELIVERY is available in NYC (5 boroughs) / Connecticut (statewide) for orders of 5 shares or more. After placing your order, we will contact you with delivery details and schedule. Deliveries will be scheduled for late September.
QUANTITY DISCOUNTS are available for orders of 10 shares or more, as long as there is one payment and one delivery location. For large orders and wholesale quantities, please email inquiries directly to sockeyesalmonshare@gmail.com
Size of a single share
A single share of frozen fillets is 15 lbs. (approximately 12 fillets, 1.25 lbs. each). One fillet will feed four adults.
This diagram shows how much space a single share will occupy in a standard home kitchen freezer.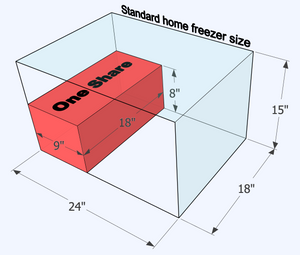 FREQUENTLY ASKED QUESTIONS
CAN SHARES BE GROUPED IN ORDER TO RECEIVE FREE DELIVERY?
Yes, we are happy to deliver, as long as there is a single delivery location/time. Orders of 5 shares or more are eligible for free delivery within the 5 boroughs of NYC and the state of CT.
IF I AM UNABLE TO PICK UP MY SHARE ON THE SCHEDULED PICK-UP DATES, CAN I MAKE A PICK-UP APPOINTMENT?
Yes, we can work together to make an after hours pick up appointment that fits your schedule.
DO YOU DELIVER/SHIP OUTSIDE OF THE NYC/CT REGION?
For orders larger than 10 shares, we offer delivery within 2 hrs of each of our pickup locations. Please contact us directly to discuss before ordering. We do not offer shipping via Fedex, etc.
HOW IS THE FISH CAUGHT?
Bristol Bay Sockeye Salmon is harvested on small boats using drift gillnets. Bycatch is almost non-existent. The fishery is managed and regulated by the Alaska Department of Fish and Game for maximum sustained yields and optimum escapement. Bristol Bay continues to see record setting salmon runs in individual river systems and bay-wide. The 2023 Bristol Bay salmon run is projected to be "strong", consistent with the very healthy returns we have seen over the last decade. The 2022 Bristol Bay salmon run was the largest in recorded history.
WHAT MAKES YOUR FISH DIFFERENT FROM THE SALMON AT THE FISH MARKET/GROCERY STORE?
Our fish is fully traceable from the point of harvest to your freezer. There are no middle-men or wholesalers, no cross contamination, no re-processing or re-freezing. We guarantee the consistent high quality of our fish.
IS FULL PAYMENT REQUIRED TO MAKE AN ORDER?
Yes, full payment is required to make an order. Your order is fully refundable should you be unable to collect your share at the time of pickup.
HOW LONG CAN YOUR FROZEN SALMON FILLETS BE STORED IN MY FREEZER?
Frozen fillets can be stored for up to two years, however we recommend consuming your fish within one year, for the best possible quality.
WHAT IS THE BEST WAY TO PREPARE THIS SALMON?
Please see our RECIPES page.